Los Angeles Art Association is proud to present 4 Solo exhibitions at Gallery 825 on May 11 featuring Sol Hill, K. Ryan Henisey, Meghan Quinn and Lorraine Triolo.
The art critic Clement Greenberg once said about the great dialog of art that "all great art is art about art" -- meaning that art which relates to the art that precedes it drives the evolution of artistic expression. All Great Art Is Art About Art is Sol Hill's exhibit of mixed media metagraphs of people looking at art in two of the spokes of the contemporary art world; museums and international art fairs. A metagraph is a process of Hill's creation which begins by rendering camera generated data to emphasize artifacts produced by false exposure on a digital sensor. False exposure is the product of recording of any energy, outside of visible light, which moves electrons into the pixel ports. The images thus become both a literal and metaphorical meta-vision. This series blends the metagraphic discourse of Sol Hill's work on perception by joining science, technology, spirituality and art to tangibly present a hint of the energetic thumbprint of the universe we inhabit but are removed from except by scientific instrumentation or rare extra-sensory spiritual experiences with a look at the art-historical discussion of evolving perception.
K Ryan Henisey's Pantheon is a new body of work representing gods from global mythic traditions. Each of his paintings and installations showcase a mythic being, fragmented into reliquary-like collages that include framed and unframed works on canvas, paper, and digital media. The deities displayed in Pantheon reflect ancient ideas behind each god using contemporary materials to form and underscore the shape and meaning of each figure. Henisey's visual language and elevated use of materials reinforces expressions of contemporary experience. His use of the human form is a celebration of Queer expression, often addressing ideas related to beauty, gender, and post-modernist theory with a luxurious and critical hand.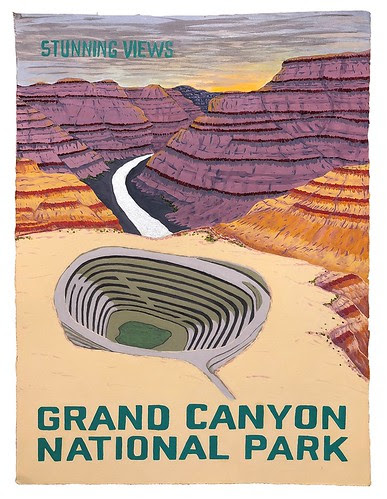 Meghan Quinn's new body of work Stunning Views is a contemporary reimagining of the classic WPA posters that highlight our public lands. In the revised views, effects of both climate change and public land grabs are exhibited. Reflective and metallic colors bring the paintings to life to highlight resources, ghosts, or causes of catastrophic change. These posters are meant to celebrate our amazing American landscapes and educate what is at stake for these sacred spaces if we don't course correct.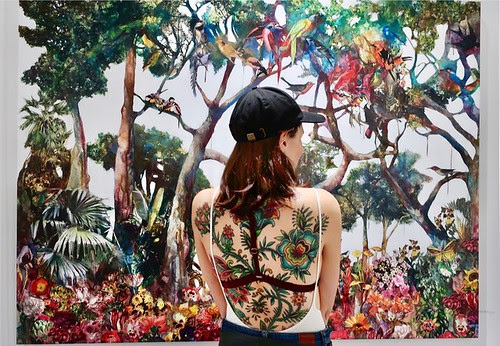 Over the past decade, artist Lorraine Triolo has walked the corridors of art fairs, gallery openings and other art world events around the globe. It was at those events where she developed an eye for seeking out attendees and photographing them posed with large art works. The results are uncanny, unexpected, almost magical images. Triolo now shares these unique images of people mirroring, mimicking or disappearing into the art works with the exhibition People Who Look Like Art. Her serendipitously-dressed subjects include artists and art world luminaries mixed with mostly ordinary civilian enthusiasts, all of whom share a unique sense of style and a desire to be part of the event.
When: Opening Reception: Saturday, May 11, 2019 6 - 9 pm
(show runs through June 14).
Where: Gallery 825, 825 N. La Cienega Boulevard,
Los Angeles, CA 90069
Admission: Free and open to the public.
If you have any questions please call the gallery: 310.652.8272 or e-mail: gallery825@laaa.org
Above images: Sol Hill, K. Ryan Henisey, Meghan Quinn and Lorraine Triolo

Pre-order your copy of Lorraine Triolo's book People Who Look Like Art - The book is produced on the occasion of Triolo's solo exhibition People Who Look Like Art at Gallery 825
Our Price: $60
Photography by Lorraine Triolo
Limited edition book of 300 signed copies
10" x 11"; hardcover; 114 pages; no isbn
Click here to Pre-order
Book available May 11, 2019.