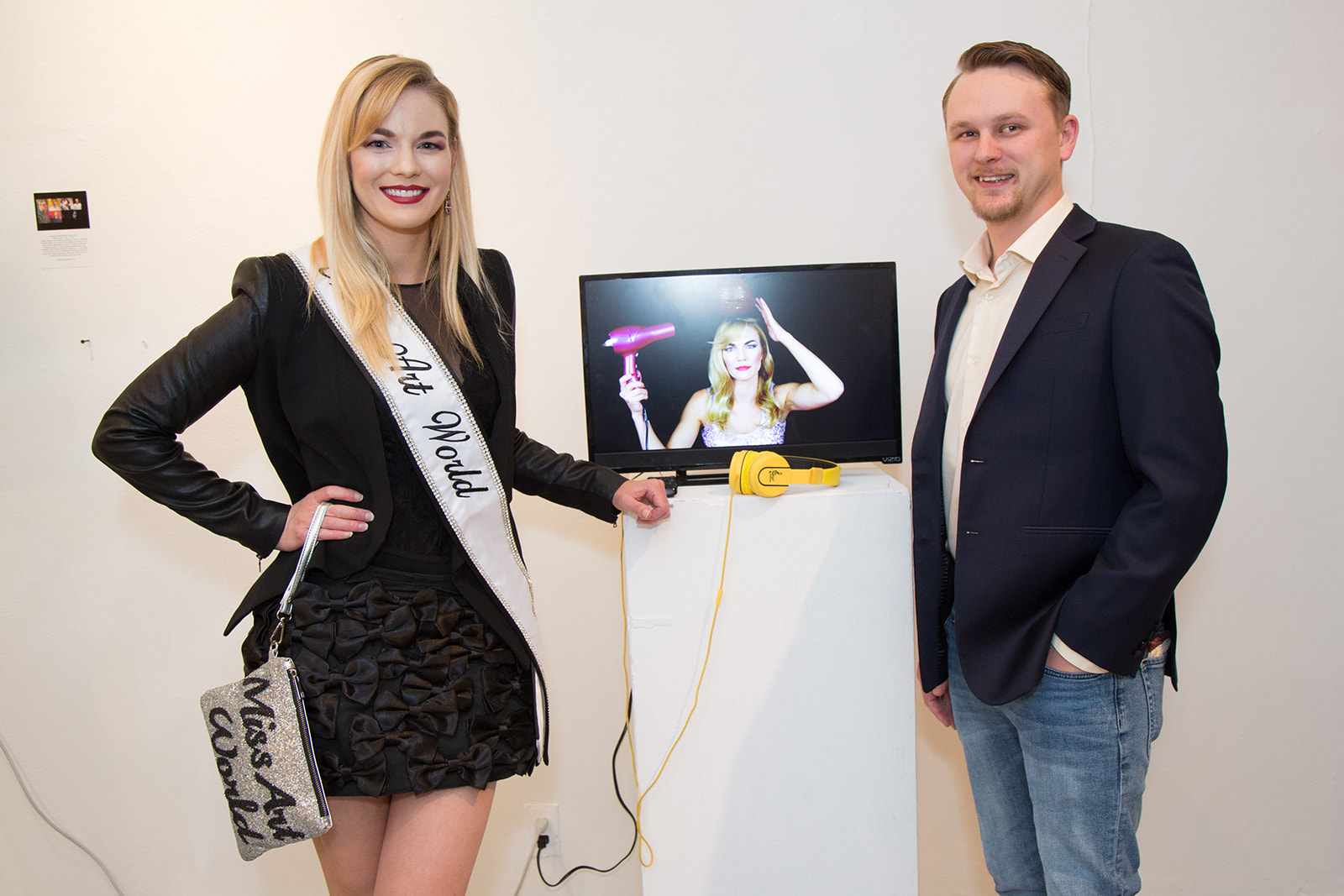 Los Angeles Art Association is proud to present Multiple Feeds, an online and gallery video presentation with a unique design that allows the viewing audience to create and post their own video content in response to the videos by emerging artists. The artists' videos will be played alongside the videos created in response at Gallery 825, creating a dialog between the artists and the audience. Multiple Feeds and solo exhibitions by Kat Flyn, Maidy Morhous and Tom Wheeler open on Saturday, April 6, 2019 at Gallery 825.
Multiple Feeds is made possible in part by the City of Los Angeles Department of Cultural Affairs
If you have any questions please call the gallery: 310.652.8272 or e-mail: gallery825@laaa.org
Above images: Kat Flyn, Maidy Morhous and Tom Wheeler.

Kat Flyn's solo show Ripped From the Headlines, is as the title suggests, a focus on contemporary themes - Prison Reform, Black Lives Matter, Immigration, #Me Too, Choice, Human Trafficking, and Transgender issues. In doing so, Flyn has willfully employed cartoonish stereotypes in her sculptures, which may seem counter intuitive given the seriousness of the subject matter. However, Flyn has found that viewers' initial response to the work is more favorable when she intentionally approaches her topics this way. Flyn' goal is to get the viewer to pause long enough to see past the art into the narrative advanced by the work.
Maidy Morhous' new body of work Ordinary Stuff! is an exhibition of bronze sculptures that celebrate common day objects, ultimately seeking to elevate popular culture to the level of fine art. Her premise is that there is no hierarchy of culture and that art may borrow from any source. The sculptures cannot be taken in with one glance. They expose the viewer to and pull them in to react and question what they are viewing; be it to question life and one's existence, the world's plight, or just bring a smile.
Tom Wheeler's methodology is often described as "painted-light" photography, which has been his ongoing obsession since 1989. His exhibition Into the Night: Light-Painting in Western Landscapes are a series of nighttime long-exposures utilizing experimentation with hand-held light-emitting tools such as acrylic rods and Lucite sheets, home-made plastic cubes, and anything else that lights up. Wheeler does not produce anything post-production, or via Photoshop. Everything is hand-created wholly on location at the time of exposure. Wheeler is fortunate to be able to utilize the largest studios in the world, using grand, expansive backdrops of the vast, starry western wilderness, with ready-made sources of beautiful ambient and lunar lighting. Wheeler does not consider himself a landscape photographer, rather his work revels in intrusion, often drastically altering the intended aesthetics of natural creation.
When: Opening Reception: Saturday, April 6, 2019 6 - 9 pm
(show runs through May 3)
Where: Gallery 825, 825 N. La Cienega Boulevard,
Los Angeles, CA 90069
Admission: Free and open to the public.